Back in mid July I happened upon an Etsy shop called Brushstrokes and More. The owner's name is Carol and she is an artist with a very special touch. The listing in her shop that caught my eye was that of this porch.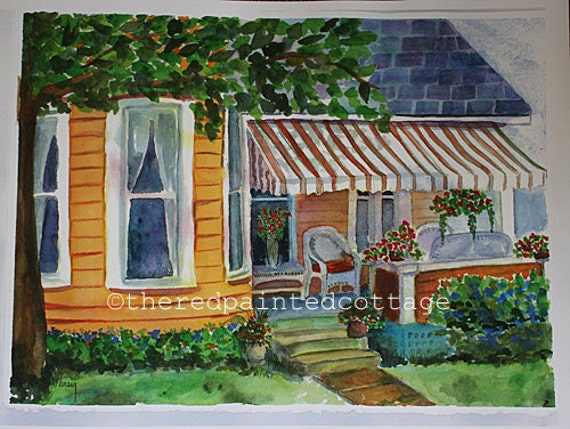 Wouldn't you love to live here? I think it's the coziest porch I've ever seen. Anyway, before I knew it I was emailing Carol asking if she would paint my front porch…an original watercolor just for me. After a few emails back and forth, including pictures, she agreed.  Fast forward to last week when I received the finished piece in the mail.
I really don't have words to describe how much I love it. Carol took my photos, applied her knowledge and talent, and the end result is perfection. I have wanted to do something like this for years.
Seriously…forever.
I felt such a sense of accomplishment when I hung this treasure on my wall.
Carol has a blog of her own called The Red Painted Cottage. When she was sure I was happy and satisfied (how could I not be?) she devoted an entire post to my picture.
If you want to learn more about Carol just visit her blog or her Etsy shop.  Tell her Ann sent you…
When I was hanging the watercolor I decided to add some touches of Autumn to the entry.
More bittersweet, (shocker I know) pumpkins and new pillows did the trick.
The weeks are flying by. One more week of September and then it will be time to welcome October. Right now it's time to welcome the weekend. Have a good one…
Newbie Graduates at Debbiedoo's