I'm havin' a party.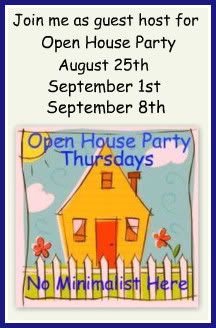 while she is on an unbelievable vacation to Venice.
For THREE WEEKS!
August 25
September 1
September 8
I have a very special home tour planned for my first week.
This blogger is near and dear to every Newbie out there in blogland.
She has a huge heart and a stunning home.
Sherry's theme is anything home-related…
so it shouldn't be too hard to come up with something.
Come back Wednesday at 7 p.m. EST.
The link will be up and the tour will begin.
SEE YOU THEN!
style="background-attachment: initial; background-clip: initial; background-color: transparent; background-image: initial; background-origin: initial; background-position: initial initial; background-repeat: initial initial; border-bottom-style: none; border-color: initial; border-left-style: none; border-right-style: none; border-top-style: none; border-width: initial;" />