Welcome to this month's edition of DIY Decorating Tips…and we are talking about one of my favorite things: DIY Budget Decorating with Pillows. Other than paint, there is nothing that can change the look of a room as easily as new pillows. You can change them seasonally or just for fun. It's also a great way to experiment with color and texture. They are budget-friendly so even if you make a design mistake you aren't out a fortune…and I've made plenty of mistakes! The first thing I want to mention is the importance of investing in good pillow inserts. I am a down/feather pillow lover so that's what I have in my home. I have sets in three sizes. 20 x 20, 18 x 18 and 12 x 16. The 20 x 20 can be found at IKEA for $6.99. I know…unbelievable. The other sizes can be found on sites like West Elm, Crate and Barrel or Pottery Barn. You can also get them on Amazon and I will list some links at the end of the post.
As a starting point several years ago, I made pillow covers in my base colors of yellow and blue. I mixed patterns and textures along with different shades of both colors. If you don't sew, and want to start a collection of mix and match pillows, hunt at TJMaxx or Homegoods. They have a great selection of down pillows at reasonable prices. Pier 1 and World Market are also good places to look.
I thought I would go back through last year and show you the different pillow combinations I used for my living room. I have a neutral sofa but even if you don't, you can still play around. The look above was just this past Christmas. The fun red pillow covers are from IKEA and were under $10.00 each as are the buffalo checked ones below.
Christmas Home Tour
As you can see I occasionally mix patterns and colors. I probably wouldn't have normally combined the two fabrics above, the gold print and the red check, but for Christmas I thought it might work. I think it did.
Fall Home Tour
For Fall I was able to pull from my core collection because there were darker golds and blues that I thought looked autumnal. Above on the sofa I added a Pottery Barn sunflower pillow that has great texture. Most of the time I like my pillows to be symmetrical. I think it's calming and easy on the eye. Once in a while I do get brave and throw the symmetry out the window! Definitely do whatever makes you happy when you walk into a room.
Across the room on the chairs I added navy blue and again the darker gold. When you are shopping for fabric or pillows, think a little bit outside the box. If you have mostly neutral colors in your home, the sky is the limit. If not, perhaps choose darker shades of the colors you already have.
I literally have pillows in every room of my house…except the kitchen. I treat my outdoor spaces just like indoor rooms. I have pillows on both my porches pretty much all year round. Craft stores like Hobby Lobby and Michael's now carry a great selection of pillow covers that are downright affordable.
Summer Front Porch
The blue pillow covers above were under $5 each at Hobby Lobby last summer. I don't think you could get a better price…even if you made them yourself!
Summer Back Porch
Normally when I update a room or switch to seasonal decor, I mix pillow covers I have made with ones I have purchased. I don't worry about the colors matching exactly. As long as they are in the same color family I'm OK with going darker, lighter or a different shade.
Spring Farmhouse Porch
By keeping your pillow collection to just a few colors, it's easy to move them around your house. The colors on my first floor revolve around yellow and blue. I can take pillows from one room and put them in another. A whole new look for no money.
A favorite trick of mine, well really it's Sarah Richardson's trick, is to make reversible pillow covers. Two looks for the price of one. Rarely do I make a pillow cover for my own home with two matching sides. Getting a new and different look is as easy as flipping over a pillow.
Christmas Home Tour 2013
Which brings us to Christmas 2013 and a completely different look from Christmas 2014. I actually used those red velvet pillows (pictured above) on my front porch rockers this year (pictured below.)
The most important thing to remember, in my humble opinion, is to be brave. Don't be afraid to try something different. Mix a plaid with a floral or a stripe with a check. If you don't have any pillows at all, start small. Just get a couple and put them on your sofa. I bet you will fall in love.
Pillow Inserts (aff. links)
For more DIY decorating tips check out these links:
How to Layer a Room in 10 Easy Steps
Decorating and Layering with Trays
Now it's time to feature my lovely friends and their take on decorating with pillows. Stop by their blogs if you have time!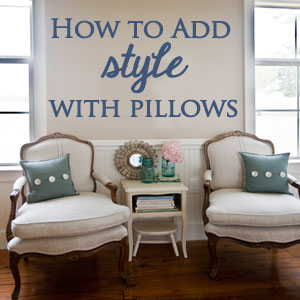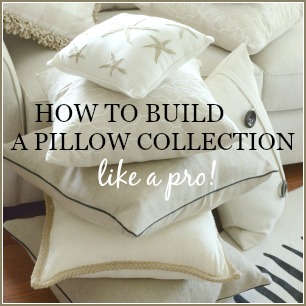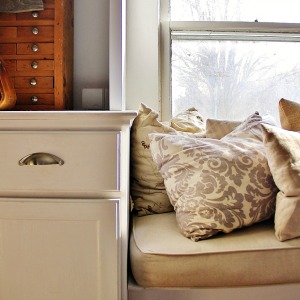 Thank you for stopping by…I will be back on Sunday
with our Spring/Easter Clay Tag Collection!