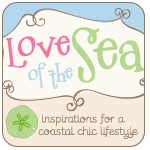 She hosted a terrific giveaway and I was one of the lucky winners.
Here are a few pictures of her home.
I am totally in love with her kitchen.
I told her once that she should be a professional interior designer…
I don't think she took me seriously but I meant what I said!
I just love the fish tureen on the shelf in the picture above.
I swear this room could be in an issue of Coastal Living.
So here is what I won.
Perfectly Debbie.
And now perfectly me!
Thanks for stopping by…
style="background-attachment: initial; background-clip: initial; background-color: transparent; background-image: initial; background-origin: initial; background-position: initial initial; background-repeat: initial initial; border-bottom-style: none; border-color: initial; border-left-style: none; border-right-style: none; border-top-style: none; border-width: initial;" />