Today we're going to chat about how to incorporate the things you love, your collections, into your decor with style. We all collect something…some of us probably collect too much! Over the years, I have learned a few tips for making your collections shine and look cohesive. First though let's talk about what defines a collection.
Collection:
"A group of interesting or beautiful objects brought
together in order to show or study them."
Mirriam-Webster
Beautiful is in the eye of the beholder…so I believe any group of items can be a collection. The most important thing to remember is to group the items together. Boundaries help but are not completely necessary. Using bookcases, a hutch or shelves of any kind makes it easier. Tabletops or trays can also be used to display your things with simple style.
If you have a group of 6 or 7 like items, but they are spread all around your room, they won't make the impact they would if they were grouped together. In the photo above I have gathered white ironstone together and filled the bookshelves. I used other items to add seasonal color but the main focus is the ironstone.
Don't be afraid to mix the old with the new. Some of my ironstone is vintage but most of it was found at TJMaxx or thrift stores. When it's all grouped together it doesn't make a bit of difference. The plate collection on the wall was gathered in the same way.
If you are thinking to yourself "I don't collect anything" then think again. Just use what you have because chances are that you love it already. Books, framed family photos or items from a special time in your life make personal and meaningful collections.
My two favorite collections are my blue ball jars and my heirloom silver. The silver is all from my husband's family. When it's grouped together, and displayed as a collection, it packs a stylish punch. Same with the blue jars. I use them all over the place, especially for vases…but when they are all in one place they really stand out.
I hope you've been inspired to look around your house and gather your collections together. Place them on a coffee or side table…or on bookshelves. No matter how you present them, this is the most important thing: that you smile when you walk into the room.
I've got loads more inspiration for you on this subject. My DIY Decorating Tips and Tricks team has outdone themselves this time! Amazing ideas that anyone can do. Take a look…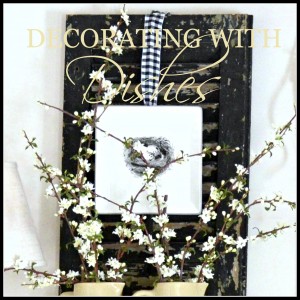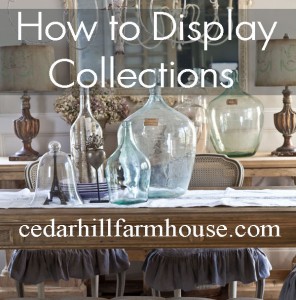 Thank you so much for stopping by! See you soon…