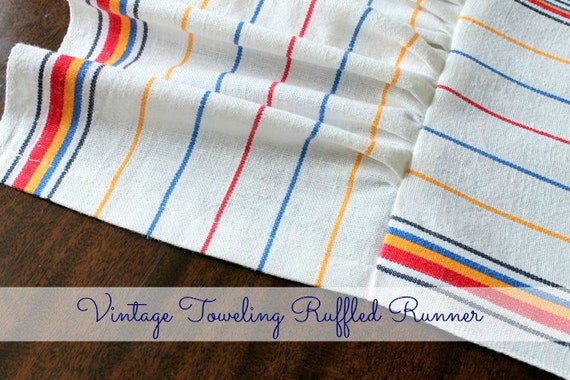 I've been working hard trying to re-organize and stock my Etsy shop…which will explain why I'm so behind on email and visiting blogs! When I closed my shop over the holidays I may not have been officially open, but I was working behind the scenes doing my favorite thing.
Shopping. I spent hours online looking for vintage fabric that I could re-purpose into textile furnishings for your home…and it was oh so fun. I had very good luck finding vintage linen/cotton toweling.
Toweling was sold in rolls to make, you guessed it, towels. Housewives from about 1900 – 1960 bought the rolls, cut it and hemmed it to make their kitchen towels.
It runs in width from about 15 in. to sometimes as wide as 20 – 22 inches. It's hard to find long pieces though and if found, they are usually pretty pricey. I try to find pieces at least 3 yards long. I can get a generously sized ruffled runner from 3 yards. When there is less I usually leave the ruffle off like the flat runner pictured above.
Vintage toweling is usually colorful and almost always involves stripes. Occasionally a floral piece appears but not very often. Moda makes reproduction floral and striped toweling that's reasonably priced and looks very much like the real thing.
I had enough of this wonderful blue plaid toweling to make a runner and a matching pillow cover. I backed it with some vintage white matelasse from an old coverlet I found on eBay.
All of the items pictured are available in the Vintage One of a Kind section of my Etsy shop. Just click on the picture to see the listing. I'm trying to add new things a couple of times a week. I didn't make it this week (did this week go fast or what?) but hope to have new listings by Monday.
I have some news to share too. I am joining the Creative Team over at Positively Splendid. I am trying to spread my wings a bit…which isn't the easiest thing for me to do. Amy's blog is a happy and fun place where I will be sharing brand new recipes once a month. I hope you will follow me over there when it's my turn to post. I'll definitely need your moral support! Here we are if you want to learn more about the other contributors.
A very light, gentle snow is falling as I write this. I don't think we are supposed to get much…just enough to make things white and beautiful. Enjoy your weekend!
Linking to: