Welcome to the January edition of DIY Tips and Tricks featuring beds, bedding and bedrooms. I have to be honest and tell you that this is NOT my strong point but I have, over the years, figured out a few easy ways to make a bed look beautiful. The most important thing is that the bedding is functional. For us, it has to be washable and pet-friendly. I've come up with three different pillow combinations that would be budget-friendly and easy to do. First though let's start with the basic bedding.
Several years ago I went to all neutral sheets and a neutral quilt. I got so tired of the duvet covers and the big comforters. They were a lot of work and hard to launder. A simple quilt with matching shams is so much easier. It's not cotton because I have found that cotton grabs stains and they are difficult to get out. I wash and dry mine on a regular basis because of our little dog. It doesn't need ironed and so far is hasn't shrunk. In the warmer months, a cotton blanket and the quilt are all we need on the bed. In the winter, I keep an ivory down blanket at the end of the bed and we pull it up at night. The dust ruffle is from Pottery Barn but was purchased several years ago. It adds a nice color break between the neutral carpet and the quilt.
Each of these pillow ideas begins with our four bed pillows in ivory pillowcases. Then I lay two standard shams that match the quilt. For the first look I added two 16 x 24 red velvet pillow covers from IKEA. I've had them for several years and just recently they were on my front porch! They move around my house whenever I need a pop of red. In front of them I placed a grain sack pillow cover on a 14 x 26 pillow insert. I simply sewed up the sides of the grain sack and tied the end with twill ribbon.
The next look uses two red buffalo check pillow covers stuffed with 20 x 20 inserts. All are from IKEA. I added the red velvet pillow as an accent.
The last look is to simply add an accent pillow in front of the shams. For a little more color, I placed a plaid throw at the end of the bed.
I have mentioned my love of IKEA pillow covers and inserts many times and can't stress enough how budget friendly they are. The pillow covers are usually right around $10 and the down inserts are $6.99. I have purchased several sets of IKEA pillow covers over the years. They wash up beautifully and none have faded even when I've used them outside. If you don't have an IKEA close enough, shop Homegoods or TJMaxx. They always have down pillows in every color imaginable and for a reasonable price.
I've made a handy graphic for you to pin in case you want one of these looks for your own bedroom. Once you have the core elements, mix and play around until you get a look you love. One that's not only beautiful, but functional as well.
Now…for more awesome inspiration take a minute and visit the links below. I have seen the pictures and you won't want to miss any of them!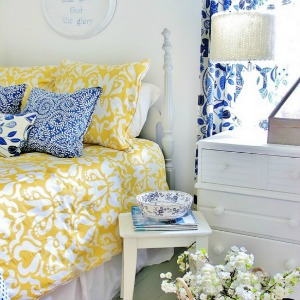 Cedar Hill Farmhouse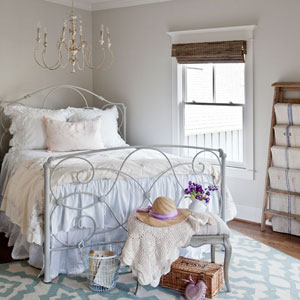 StoneGable
Thank you so much for stopping by…I'll see you again over the weekend!
Sources:
Red Plaid Throw
Ivory Quilt and Shams
Ivory Sheet Set (aff. link)