DIY Box Lunch Wedding Shower Ideas
Tips and details for hosting a DIY box lunch wedding shower in your home, along with more ideas + inspiration. I'm sharing all the scoop on the box lunch assembly, what we served for dessert, and more!
*This post was originally published in 2013. We held this wedding shower at our house on Sutton Place. The post has been revamped with current information, up-to-date links, and additional ideas. Affiliate links included. See my disclosure statement.
Planning
The most important first step when planning any type of party or get-together is to make a list. Start at the very beginning, and give yourself plenty of time. (A free checklist is available at the end of this post!)
We started out planning this wedding shower with a large guest list, and no affordable venue. After going back and forth for a few days, we finally decided to have the shower in our home. When we were brain-storming ideas on how we could accommodate around 50 people, we considered a traditional bridal shower brunch or lunch buffet, but we somehow came up with the idea of a box lunch. Pinterest helped, but we quickly found out that we had to find our own resources, and come up with our own plan.
Our box lunch idea addressed two big concerns:
First, our guest list was large, but our space was not. By making box lunches, we wouldn't have to seat every guest at a table. The boxes would contain the entire meal, except dessert, and could be easily balanced on a lap.
Second, I was worried about getting everything accomplished on time the day of the shower. The box lunches would have to be assembled the day before, so the majority of the work would be done ahead. This was a major plus, since we had a start time of 11 a.m.
The Invitation
With the help of the bride, complile the bridal shower guest list. Include the wedding party, close family members, co-workers, friends, any other relatives. Wedding shower invitations can be casually handwritten, or they can be printed through a website like Minted. Darling bridal shower invitations can also be found on Etsy…which is where we chose to purchase ours. Make sure to include the bridal shower theme if you have one, the wedding registry information, time, date, location, RSVP, and dress code if there is one.
The Menu
Planning food for any type of celebration can be stressful. We went back and forth trying to decide on something that was easy to pack, as well as easy to eat. This was our final decision.
Small croissant
Mixed fruit
Sun Chips
Box Lunch Elements
The Boxes
After looking around online for what seemed like hours, we decided on these brown kraft boxes. We wanted something with a flat top, so we could tie pretty ribbon around each box. I originally planned to tie bows around the boxes, but then I realized that we would not be able to stack them in the refrigerator. The only way they were all fitting in our two refrigerators was if they were stacked…so the bows were adjusted to a simple slip knot.
The Plastic Containers
The Bags
We knew we wanted some sort of specialty bags for the croissant and chips. After looking around online, we chose these cute bags. Thankfully, we packaged a croissant and some chips about a week before the shower to see how they would taste after sitting in the refrigerator overnight. They tasted fine, but the food oil soaked through the bags. It looked terrible! So we used cellophane bags as a liner to solve that problem. We folded the bags over, and sealed them with a round white sticker.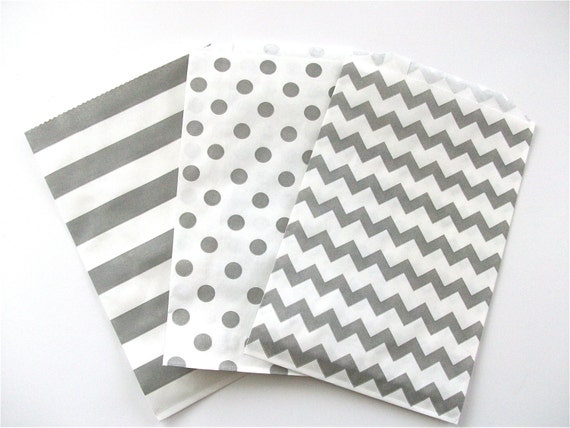 The Flatware
We knew we were definitely going to use disposable flatware, but we didn't want basic white plastic forks. We chose silver, heavy duty plastic forks that looked very nice after we wrapped each one in a napkin, and tied a cute bow around it!
Box Lunch Assembly
Once we chose all the elements for the box lunches, the next step was figuring out how to make it all fit. That took some trial and error, but after a few tries we came up with something that looked nice, but not crowded.
Box assembly step 1: We lined the boxes with wax deli paper.
Box assembly step 2: the first layer contained the chicken salad, croissant, fruit, and chips.
Box assembly step 3: the second layer was the pasta salad and flatware/napkin.
The finishing touch was tying a double layer of ribbon around each box. Even though it was a bit tedious, this was my favorite part of the whole thing!
We assembled the boxes the night before the shower, and stowed them away in our refrigerators overnight. We used the refrigerator in our kitchen, along with an extra refrigerator we have in our garage. A few minutes before guests started to arrive on the big day, we neatly stacked the boxes on the dining room table. That was it! Not even 10 minutes on the day of the shower, and the food was taken care of.
Helpful Hints
Make sure to try out everything ahead of time. We ran into a few problems, that had we waited, could have been disastrous.
Make sure everything fits in your box and can sit overnight in a refrigerator.
Prioritize the DIY aspect. What I mean by this is don't feel like you have to do/make EVERYTHING yourself. We made the pasta salad, but we bought the chicken salad. We had help with the fruit, and opted for a dessert table instead of packing a dessert for the boxes.
Where you can take a shortcut…do it. Don't be afraid to use plastic flatware/cups/containers. After all…it's a casual meal in a casual setting.
I had some questions in the comment section about refrigerator space. We have an extra refrigerator in our garage. I cleared it out and removed two shelves. We were able to stack most of the boxes in there, and we put the overflow in our kitchen refrigerator.
Wedding Decoration Ideas
When we had the box lunch assembly all planned out, we moved on to the other details and the decor. We knew we were unable to seat everyone in attendance due to space constraints, but we decided to provide as much seating as we could on our back deck. We rented white tables, chairs, and tablecloths which completely transformed the space.
Centerpieces
I gathered together my white and cream pitchers, and filled them with daisies and baby's breath for the centerpieces. Colorful pieces of ribbon were tied onto the handles of all the pitchers. To complete the seating area, we purchased coordinating fabric, and made square toppers for all the tables.
Wedding Shower Dessert Ideas
We opted not to include dessert in the boxes. Instead, we put together a dessert table for the guests to help themselves. We considered baking our own cupcakes, but decided to buy them at a sweet little bakery in our hometown. We served cake pops that added beautiful color, and cookies as well. My daughter and I agreed it was one of the smartest decisions we made! Not only did it save us tons of time, all the dessert choices were truly delicious.
Bridal Shower Favors
Small gifts for your guests are fun and easy to put together. I'm not an expert on bridal shower etiquette, but favors are a good idea! Here are some suggestions:
Bridal Shower Checklist Free Printable
Just fill out the form below and I'll immediately send you the free bridal shower checklist! *Current OSP subscribers should go ahead and fill out the form and I'll send the printables right away. My email company makes sure that you don't get duplicate subscriptions.
The entire day was as close to perfect as we could get. This box lunch wedding shower turned out just like we had planned (which you have to admit hardly ever happens.) The bride-to-be felt special, she was surrounded by her maid of honor, bridesmaids, friends, and family members. Along with her groom, she received some incredible shower gifts to begin her life as a "Mrs."
Complete list of sources
all the ribbon was purchased at Hobby Lobby
Gender Neutral Box Lunch Baby Shower