When my daughter and I decided to host a Box Lunch Bridal Shower, the only thing we knew was that we wanted the boxes to be tied with ribbon. Not a heck of a lot to go on! So…we did some internet searching and shopping to come up with the perfect DIY Box Lunch for a Picnic or Party. Here's how we did it. (Complete list of sources is at the end of the post.)
First the menu. We went back and forth a while trying to decide on something easy to pack as well as easy to eat. In the end we went with Chicken Salad, Pasta Salad, a small croissant, mixed fruit and Sun Chips.
The boxes. After looking around on Pinterest, we decided on brown kraft boxes measuring 9 x 7 x 3.5. We found them at papermart.com for a reasonable price. The only problem was that they shipped in sets of 40 and we needed 50. We got them anyway because we just couldn't find anything better. So we have a few extra!
The containers. We went to our local Gordon Food Service and bought 8 oz. plastic containers. We planned to put 3 of these containers in the boxes but found out they wouldn't fit. We switched to two 8 oz. containers (chicken salad and pasta salad) and one 5 oz. container (fruit.)
The bags. We knew we wanted some sort of specialty bags for the croissant and chips. We shopped Etsy and found just the right thing.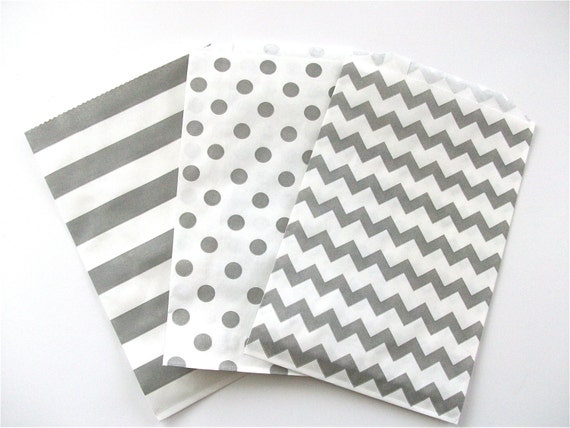 Thankfully we packaged a croissant and some chips about a week before the shower to see how they would taste after sitting in the refrigerator overnight. They tasted fine but the food oil soaked through the bags. It was incredibly tacky! So we used cellophane bags as a liner to solve that problem. We folded the bags over and sealed them with a round white sticker.
The flatware. We found some plastic silver flatware at Gordon Food Service. At first glance it looked like the real thing so we decided to try it. After we wrapped it in the napkins and tied a bow around it we thought it was a great choice.
Once we had all the elements in place we had to figure out how to fit it all in the box. That took some trial and error but after a few tries we came up with something that looked nice but not crowded. We lined the boxes with wax deli paper. The first layer contained the chicken salad, croissant, fruit and chips.
The second layer was the pasta salad and flatware/napkin.
The finishing touch was tying a double layer of ribbon around each box. Even though it was a bit tedious, this was my favorite part of the whole thing!
We assembled the boxes the night before the shower and stowed them away in the refrigerator overnight. A few minutes before guests started to arrive we neatly stacked them on the dining room table. That was it. Not even 10 minutes on the day of the shower and the food was taken care of. If you missed it, you can see our dessert table in yesterday's post.
Helpful hints learned the hard way. Make sure to try out everything ahead of time. We ran into a few problems that had we waited could have been disastrous. Make sure everything fits in your box and can sit overnight in a refrigerator. Prioritize the DIY aspect. What I mean by this is don't feel like you have to do/make EVERYTHING yourself. We made the pasta salad but we bought the chicken salad. We had help with the fruit and opted for a dessert table instead of packing a dessert for the boxes. Where you can take a shortcut…do it. Don't be afraid to use plastic flatware/cups/containers. After all…it's a casual meal in a casual setting.
I've tried to list as close to the exact product source as I can. I couldn't source the ribbon because we literally walked in Hobby Lobby and bought every spool of gray or green ribbon they had! IKEA changes their stock seasonally but they always have awesome paper products to choose from in a variety of colors. We lucked out totally with the green napkins.
SOURCES
8 oz. plastic containers with lids
5 oz. plastic containers with lids
Napkins – IKEA
Grosgrain Ribbon – Hobby Lobby and papermart.com
"Future Mrs." banner (pictured here)
(Some of these sources are affiliate links.)
This is the second post in a three part series.
Here's the first post: Box Lunch Bridal Shower
Here's the final post: Bridal Shower Checklist